Interrogator Stronghold
Aerial View of the Stronghold's exterior

Administration

Region
Unknown
Type
Isolated Fortress
Leader
Interrogator Command Droid

Demographics

Dominant Inhabitants
Interrogators
Land area
20 acres, 70 stories vertically (2 stories above-ground)
Population
45,000
Major imports
Prisoners
Major exports
Interrogator Flesh Soldiers
This stronghold is a fortress held by the Interrogators. It's guarded by heavily-armored drones and Flood-like creatures, and is set in the middle of a desert.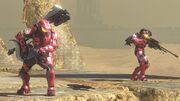 Ad blocker interference detected!
Wikia is a free-to-use site that makes money from advertising. We have a modified experience for viewers using ad blockers

Wikia is not accessible if you've made further modifications. Remove the custom ad blocker rule(s) and the page will load as expected.